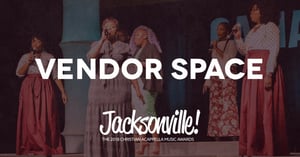 $

100.00
PLEASE SELECT AN OPTION BELOW
Vendor Space for the 2018 Christian Acappella Music Awards, November 22-24, 2018 at the Hyatt Regency Jacksonville Riverfront. Includes a 6 foot table and table skirt.
Vendor Area will be open from 12pm, Thursday, November 22 to 12pm, Sunday, November 25.
Vendors are required to purchase weekend admission ticket if they would like to attend events.